Our Vision is to create, within a framework of Christian values, a thriving and successful Academy that sets the highest aspirations for children's attainment and behaviour and enables children to excel academically and socially.
Our vision statement is: We aim for the highest standards and our vision for each child is for them to 'Enjoy and achieve in life in all its fullness, following in the footsteps of Jesus' 'With God all things are possible' Matthew 19:26
In order to achieve this vision, we aim to:
Develop and maintain positive relationships between all adults and children based on mutual respect and trust.
Provide a safe, secure and stimulating working environment for all.
Provide a range of challenging and enjoyable learning experiences that will equip children to become life-long learners and raise their aspirations.
Encourage children to develop positive attitudes to learning and behave appropriately.
Be welcoming at all times, work in partnership and offer opportunities for the family to be involved in the life of the Academy.
Develop links between our Academy, the church and the community.
Make our Academy a happy, fun and enjoyable place to be.
Create an environment which allows all children to learn and celebrates children's efforts and achievements.
Provide a broad, balanced and appropriate curriculum that meets the needs and interests of our children.
Enable children to become co-operative, independent, responsible learners who can communicate effectively.
Our Academy ethos is the Christian belief that all people are uniquely created by God and loved by God. Childrens' education should be personalised and inclusive, ensuring excellence for all. It will raise standards and transform the life chances of the community the Academy serves.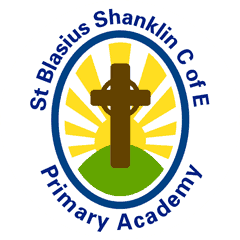 St. Blasius Shanklin C of E Primary Academy,
Albert Road,
Shanklin,
Isle of Wight,
PO37 7LY
Email: admin@stblasius.academy
Telephone: (01983) 862444
Website: www.stblasiusacademy.co.uk