Welcome to St Francis Catholic and Church of England Academy. At our Academy we place children at the centre of everything we do ensuring that they have an exciting and stimulating time at school. Our core values of Love, Courage and Friendship were chosen by the children and permeate everything that we do here at St Francis.
Our curriculum aspires to provide opportunity and develop confidence whilst being an active part of the community. Learning is creative, broad and balanced; outward-looking and rich in experiences. We recognise, celebrate and develop the gifts and talents of our children yet challenge them to think and learn, equipping them with a breadth of knowledge that support the important life skills.
Our Mission:
A Christian School which serves its community.
Inspiring values for life and life-long learning
Nurturing spirituality, respect for self and others.
Pursuing excellence for all.
Challenging all children to achieve their very best.
Enabling all to recognise and celebrate their gifts and talents.
Our Vision:
Our vision is that St Francis, through its Christian ethos, will be dedicated to the community that it serves and will provide:
New exciting ways of learning to equip people with skills for life
A nuturing and inspirational environment
A caring community
Our Values are Love, Courage and Friendship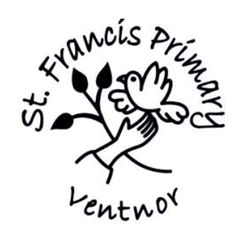 St. Francis C & C.E. Primary Academy
Newport Road,
Ventnor,
Isle of Wight.
PO38 1BQ
Email: Office@stfrancisventnor.org
Telephone: (01983) 857449
Website: www.stfrancisventnoracademy.org